Today I cycled to work. We are having a series of utterly perfect days, rare for Japan. It is still dry, the sun shines, it is not too hot, and the nights are cool. Today the sky was as blue as I ever remember it being here. It was so dry that when I touched a student on the shoulder she jumped and turned pink. I am electric.

On my way home after work I stopped at a park opposite the river and sat for a while, watching the pigeons. I love this park, although it is tiny. It has a water feature. It is a very small one, but the pigeons appreciate it. They were having baths.




After they finished, they sat on the cobblestones to dry with their feathers fluffed out, looking fat. (I discovered that my camera does not work well on perfect days. Perhaps I should learn how to deal with this sort of thing, but never mind. This is good enough.)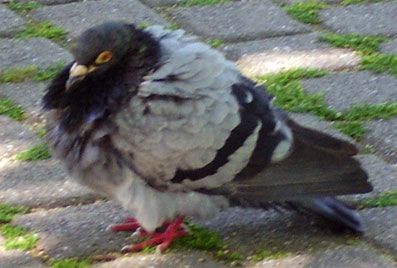 I would have fed the pigeons and made them fatter, but all I had was a banana. I discovered that pigeons don't like bananas. They tried a bit, wiped their beaks, and looked at me reproachfully.

There was a lot of spring activity going on. I tried to get pictures of the male pigeons strutting around, and out of about ten photos only one came out. This pigeon looks like it's doing a goosestep march, but I guess it's a pigeonstep march.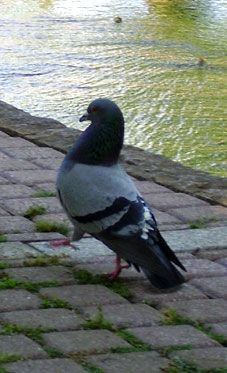 The park also has a small playground for children. It is not a particularly interesting playground, but there is a yellow concrete hound for kids to sit on (and perhaps to fall off). One pigeon seemed to find the hound rather curious, and perhaps tasteless. So did I.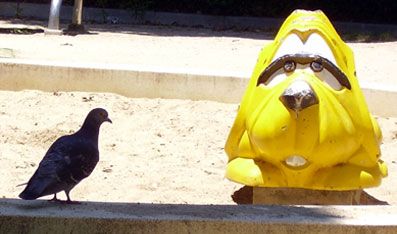 Even though it is a very small park, there is a very large sign explaining the rules. There are always rules, in Japan. This signboard of rules makes the park seem like a dangerous place. I suppose it could be, but nothing exploded while I was there.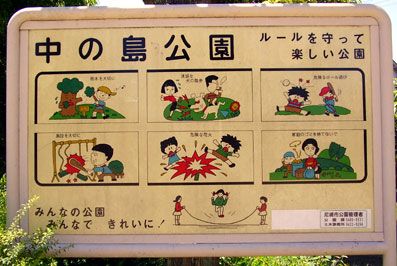 After I got tired of watching the pigeons and reading the rules I left the park and cycled up onto the bridge, and looked along the river. I watched the fish. The river is full of fish. There are very large grey carp, and some other small fish. I don't know what the small fish are, and my camera does not cope with water pictures, so I didn't photograph them.

These trees lining the river are cherry blossom trees. I posted pictures of them back in April, when they were blooming. Now they are green. There was almost no rubbish in the river.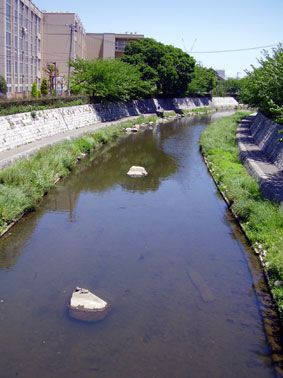 Best of all, the turtles are back. I don't know where they went last year, but they're back now. All is well with the world.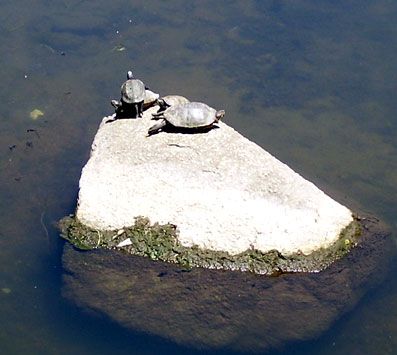 Next Wednesday I will try to remember to take something to feed the pigeons, the carp, and the turtles. Maybe if they like me they will come closer. Cupboard love, I know, but I'm not proud, and I want to take better photos.


Technorati Tags: Japan, photos, pigeons, turtles, park