I am not very good at taking pictures at night, but sometimes I try. I was out all day today, and then met a friend for drinks in the evening. As we walked back to the station I took some pictures of vending machines. There are a lot of vending machines in Japan. They're on every corner. (They also litter every so-called beauty spot in Japan - you'll even find them on Mt. Fuji, I'm told.) If you are giving directions to someone and tell them, "Turn left at the corner with the vending machines," it means that you want them to get lost.

There are five vending machines in a row on this little side street, but none of them sell my favourite drink. It's amazing how many different kinds of drink you can buy. Tea, coffee, juice, soda, yoghurt drink, sake, beer... anything you want is there. (Except for my favourite tea, in these machines anyway.)

A Japanese friend told me that when she visited the Disneyland in the U.S. she was shocked because she couldn't buy anything except sweet drinks. She doesn't like sweet drinks, but she was hot and tired and had no choice. Did she miss something? It seems absurd that there would be no plain tea, and my favourite vending machine tea here is made by Coca Cola, and is not sweet. Is it only made for the Japanese market?

Here are two of the machines. Sorry about the bad quality of the photos.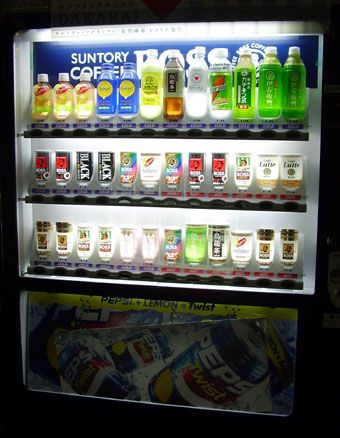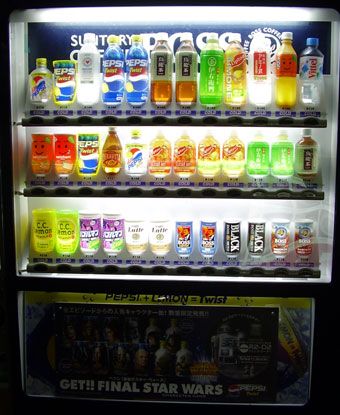 There were also some cigarette vending machines.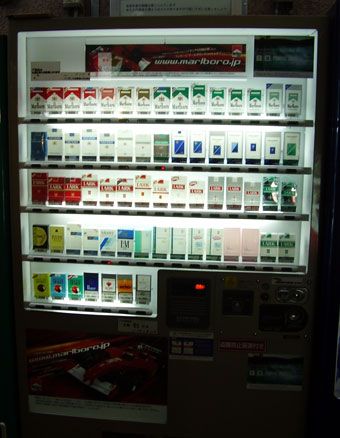 When I caught the train home I still had my camera out, and was checking the pictures I'd taken. I surreptitiously snapped a picture of the inside of the train as well. The Man tells me that one of these days I'll get into trouble doing this. Someone paranoid will object, and I'll be beaten up.

But today, at least, nobody noticed.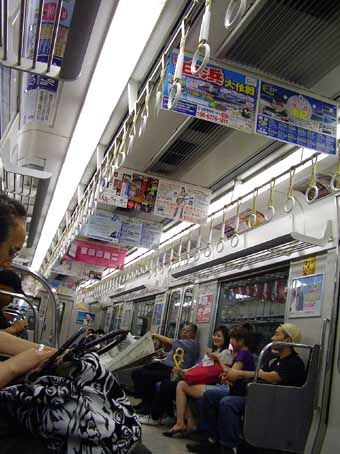 Technorati Tags: Japan, vending machines