I came across a variety of stories in my wanderings around the Web this morning.

The Pope has been auditioning for a remake of Alfred Hitchcock's The Birds. I think he needs to work on the horrified expression. He looks too happy.

We've been having our own bird problem. We feed the local sparrows on the garden wall, and in winter they get very demanding. We started this as a way to attract more interesting birds to the garden, like the bulbuls and warblers we see occasionally, but it backfired. We are now regularly visited by a tribe of hungry sparrows and two very stupid turtledoves. When the weather is cold the sparrows are particularly insistent, and congregate noisily in the tree, waiting for us to feed them. When we go outside and walk over to the wall, under the tree, they get so excited they tend to lose control of their bowels.

Yesterday I came home and there were several dozen sparrows waiting in the tree, as usual, but a few shy birds were reluctant to come too close and waited over on a neighbour's house instead, watching me beadily. My camera doesn't have a great zoom, but I got a picture of them anyway.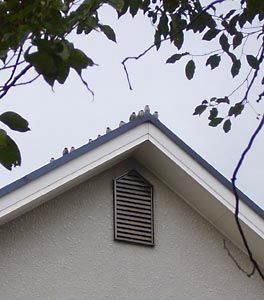 In other news, if this Antarctic ice sheet disintegration business carries on we'll be looking for a new place to live, preferably on a hill. Living below sea level probably isn't very wise when the sea levels are threatening to rise five meters. I am confused about this, however, because in another story a glaciologist says that despite the retreat of ice in the Bay of Whales, recent research shows the Ross Ice Shelf "is either stable or even advancing slightly." I'm guessing the Ross Ice Shelf is not the one they're talking about in the first story, but they don't say. I will be keeping an eye on Real Climate to see what they have to say about these stories. Maybe they can explain it all to me.

And finally, good news for bald men. You are cleverer than the rest of us. Dear Leader says so. You do not have hair sucking energy from the nerves in your head and hampering your brain activity.