Somebody asked, in comments, the origin of my blog name. It's simple, really. It is a description.

I have a ridiculous number of nieces and nephews, as I come from a family that breeds like rabbits, and there are a lot of us. Early on I tried harder and often felt guilty about my lack of success. At one stage I even wrote a little book which I sent to the children of one of my brothers. But this has remained the high point of my auntliness, I'm afraid. My family keeps popping them out, and I keep forgetting their names. I shall be forever a Bad Aunt.

I've stopped feeling bad about my Bad Auntliness, however. Some things are just not meant to be, and my nieces and nephews seem to be doing just fine without me. I have become the Occasional Bad Aunt, who crashes their lives now and then, sets a lot of bad examples, then flies back to the other side of the world, helped along by the great sighs of relief from my siblings as I wave goodbye.

Here is a page from near the beginning of the book: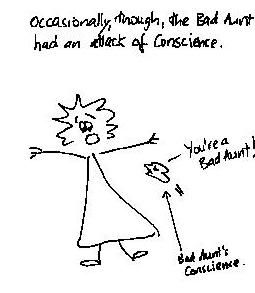 And here's a page from near the end. This is my brother.