A friend's father is a sumo fan, and thinks I'm one too. (I am, but only sometimes.) He is a friend of one of the judges, and every year he gives my friend, to give to me (the weird gaijin friend of his daughter), a sumo calendar.

The calendar is always wonderful, if occasionally overwhelming. Sometimes I hang it up. Sometimes I send it to a friend (it makes a good gift). I do appreciate getting it. I know they are not common. I probably should keep them - maybe one day they'll be worth something.

This year the sumo calendar is particularly interesting, for two reasons. The first reason is the cover. It is a wonderful cover, but I don't think they expected it to be quite so appropriate. There's something a bit spooky about them getting it so horribly right.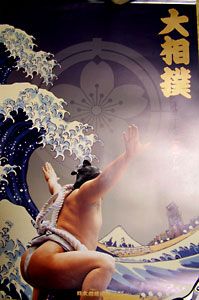 The second reason is funnier, and my friend pointed it out to me inadvertently. She turned to the September/October page. "My father's friend is on this page," she said.




It was embarrassing the way I hooted. Not elegant at all, but she had taken me by surprise.

She stared at me. I pointed, laughing so much I couldn't speak.

She looked where I was looking, and I'm very pleased to report that she folded up with laughter, too. If she hadn't I might have wondered if it was one of those perverted gaijin things.