Today The Man and I cycled about fifteen or twenty minutes to a big discount store to buy some summer bedding. Our old toweling sheets are getting a bit ratty, and anyway we wanted to try something new. We'd read about some cotton gauze type sheets that are apparently very comfortable in summer.

I love cycling in Amagasaki. It's a shoddy town, and not a rich area, but there are unexpected surprises and it is always interesting. At one point we saw a dog. It was a very large dog.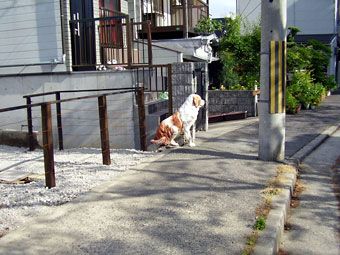 When we got a little closer, we found out why it didn't move.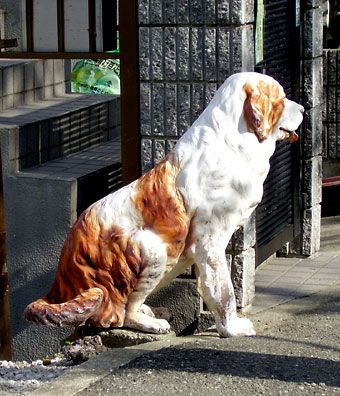 We never take the main road if we can help it, but instead get over there down little streets and along the river. I didn't take any pictures of the river, but did take some of the streets. You can see how dangerous it is to step outside your front door in some of these houses. The door fronts right onto the street. You have to peek out first to make sure a car isn't passing.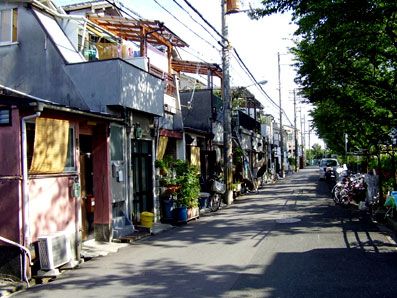 But I like taking these little streets, because you never know what might be around the corner. Of course it's usually more of the same, but still, it's fun. Now and again you come across places like this, surrounded by walls and trees, and you can't see behind the walls. What is there? A house? An old people's home? Who knows? I like the mystery of it. I don't want to know what's really there behind those walls. It couldn't possibly be as good as I imagine.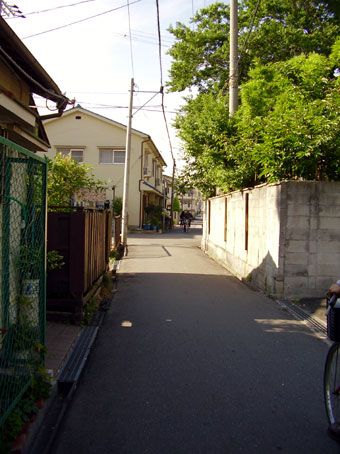 There is a place like this near our house, with walls that enclose almost an entire block. You cannot see in at all. Sometimes, in certain seasons, you can hear peacocks screaming.

Peacocks! Who has peacocks in Amagasaki, recently described in the news as a rusting industrial town just outside Osaka? The people in the coffee shop that used to be opposite the walled peacock place told us that it was mafia owned, which was a bit disappointing.

I prefer to think some eccentric rich (but not mafia) person is secretly amongst us, indulging his or her wildest landscaping fantasies behind the walls. I like to imagine a beautiful garden with exotic fruit trees and reflecting pools with fountains and peacocks and monkeys and a unicorn or two.

You never know.


Technorati Tags: Japan, Amagasaki, walled gardens