This morning I checked out one of my usual weather sites and saw that a giant white bird was leaving Japan.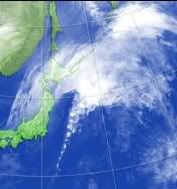 The next typhoon's projected course can be seen here, taking more or less the same path. Will it turn, or not? That last one was the 10th to make landfall this year, already breaking previous records, and was the worst in 25 years.

Incidentally, the pictures on TV of the passengers stranded on the roof of a bus overnight were astonishing. That was a night those people will not forget in a hurry. Here's a rather bland quote:

I was rescued after about 10 hours. It was really cold with the water coming up to our knees.

I suspect something got lost in translation.