We had a lovely day today at the flea market. We met at Settsu-Motoyama station and went to God Mountain first. (There are some oddly named coffee shops in Japan.) We ate a leisurely breakfast, and the pot of coffee worked very well to wake me up.

Then we took the train to Rokko. The weather was glorious - a gift considering how it's been recently - and the flea market was crowded at first. We were soon shedding outer layers and down to short sleeves, and the sun was hot on our faces. We bumped into another couple of friends there.

The Gokoku Jinja flea market is a very small one. Gokoku Jinja is a small shrine, and there isn't space for a big market anyway, but I always seem to find something interesting there. Today I was looking out for something for my brother, who is a carpenter. I had told him about it, and he was interested. Last time I visited I gave him a very small old hand-held scale, probably originally for measuring herbal medicines, and he loved it. I'd told him about this other thing and said I'd look out for one for him. The one I found today wasn't very big (there seems to be two sizes, and mine is the smaller one), and not very flash (some have very intricate and beautiful designs), but it is in working condition and I think he's going to like it. He's a practical sort of person. Maybe he'll even use it. In any case, the beautiful ones are way too expensive.

Can you guess what it is used for?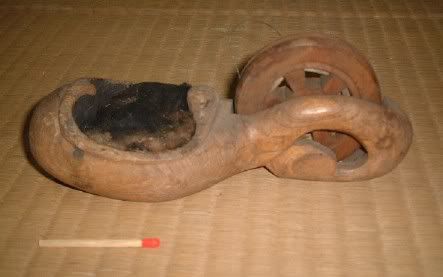 Another thing I bought was for me. This is utterly useless, but I think it's beautiful. It's a large wooden spool with some golden silk thread still on it. The gold is gorgeous, and catches the light. This is not a great picture but I couldn't be bothered messing around to take a better one.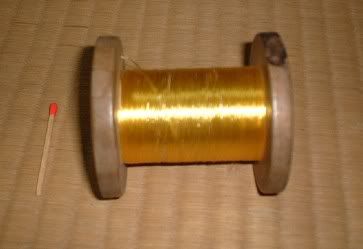 I also bought some buttons for my button jar. I didn't take a picture of those.

I didn't spend very much today, but I enjoyed myself very much all the same. I was looking for more rice bowls similar to the ones I bought another time, which have turned out to be very popular in this house because of the weight and balance of them, as well as the design. They're very old, and were expensive, and so I only bought two. But because we use them every day I've decided that if I ever spot anything similar I'll get them. They don't have to be the same. They just have to feel as good. I've been looking for a while now. It is proving harder than I thought, and although there was some blue and white today there were no bowls that caught my fancy.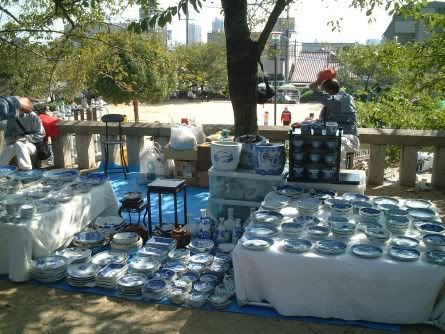 There were a lot of kimono stalls. I don't remember if there are always so many, but a friend asked me especially to note whether it would be worth her going next month on a kimono buying spree, so I was keeping my eyes open.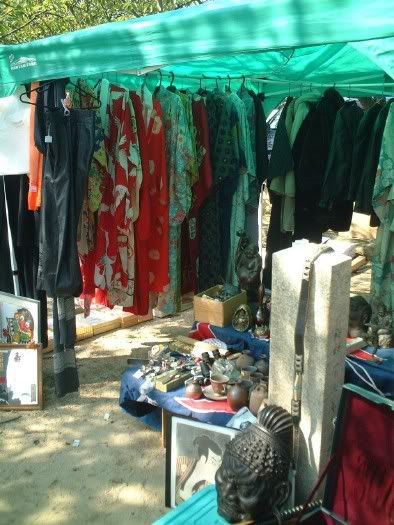 All the time we were there, there was a group of Chindon players wandering around and playing music to keep us in a buying mood. I took some pictures of them, but none of them turned out very well. Here is the best of a bad bunch.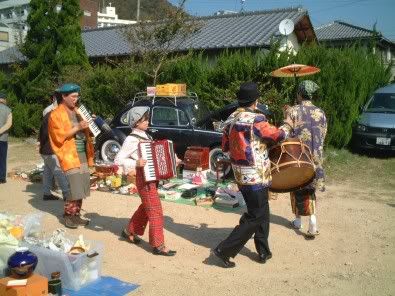 This is quite enough photos for one blog entry. I usually don't have more than one or two, and no doubt several people will be cursing me for the slow loading of my page. But I've been asked what makes Japanese flea markets different, and it's easier to show than to tell. If you hadn't figured it out yet, the stark truth is that foreign junk is always more interesting than domestic junk. I nearly bought a human skull today. The only reason I didn't was that someone else snapped it up before I got the chance. I think it was clay, but it looked very real indeed, all browned and aged and with some broken bits. The teeth were particularly gruesome.

The much bigger monthly flea market at Shi-Tennoji temple in Osaka will be on a Sunday next month (it's always on the 21st), so maybe I'll go to that one too. If I do, I'll try to remember to take the camera.